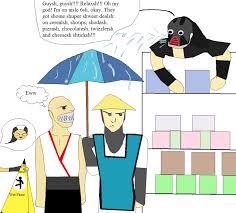 The
Mortal Kombat
animation series is a series of animated sketches uploaded to the
DashieXP channel
which has Baraka and Raiden doing stuff like going to the grocery store, trick-or-treating, etc. Baraka ends up getting beat-up, electrified or something similar and painful at the end each episode. The series is usually animated by
Drawsometoons
, while Dashie does the voiceovers.
Characters
Edit
Each character is portrayed as an existing character from Mortal Kombat. Every single one of the characters are usually voiced over by Dashie on most of the Mortal Kombat videos. Almost every character has made an appearance in the series as well as various spin-off's such as the Mortal Kombat: Rap Battle series.
"Raideeeeen, you-really-gonna-do-me-like-that Raideeeeen?!" - Baraka to Raiden.
Baraka is the main character in the series, along with Raiden. Baraka is, like how everybody calls him, "an ugly-ass dude". This is due Baraka is Raiden's best friend and they do stuff together.
"Look, the only damn thing I'm seeing is how ugly you are". - Raiden to Baraka.
The other main character along with Baraka. Even though they are best friends ("You my main man and everything"), Raiden still calls him ugly, and usually when Raiden has done something bad, Raiden blames Baraka and teleports away and Baraka gets "fucked up". It is sometimes referenced that Raiden and Baraka have a homosexual relationship.
"Guysch, guysch! O... to the M... to the G-G-G! I bought you guysch some items, (spits), to help you break out of prisooon! (spits)". - Kabal to Raiden and Baraka.
Kabal Baraka's and Raiden's friend who is seen in some episodes and the third Mortal Kombat: Rap Battle. His most known characteristic is that he spits a lot when he talks. In MORTAL KOMBAT: LOCKED UP!, Kabal breaks Raiden and Baraka out of prison, showing that he is not completely useless.
Jax is not really a friend of Baraka or Raiden, but he talks to them on some occasions. He is first met in Mortal Kombat - EP#03: Grocery Shopping, buying tampons. When Raiden sees the tampons, he asked why he has them, since Raiden doesn't recall Jax having a girlfriend. Jax says he "found them" accidentally and was going to put them back, "you know, tryna do the right thing". After a conversation with Sindel calling Baraka ugly, Jax calls him ugly too. Raiden starts insulting Jax and his mother, ending up with Jax crying. Before Jax leaves, he tells Raiden to "watch yo' back". After Baraka and Raiden leave the shop, Jax shoots Baraka with his tank and the episode ends.
"Laquisha! I know you're in these woods, Laquisha! You better not be fucking Jason!"
Smoke is a relatively minor character in the series, appearing usually at the very end of the episode. He is constantly looking for his girlfriend, Laquisha. He always searches for her in the wrong places.
Ad blocker interference detected!
Wikia is a free-to-use site that makes money from advertising. We have a modified experience for viewers using ad blockers

Wikia is not accessible if you've made further modifications. Remove the custom ad blocker rule(s) and the page will load as expected.