Michael is a series of skits made by Dashie on his Dashie and DashieXP2 YouTube channels. It stars Michael, a man with an elongated face and an obsession for blueberries. Michael is played by Dashie, and no other actors have appeared on the videos. The series have been discontinued after running for 19 episodes.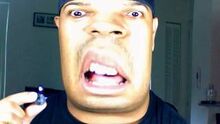 Episodes
In the first video of the series, Michael introduces himself and eats a blueberry. He says that he has liked blueberries since he was a child and describes them as "juicy". He thanks the audience for watching the video.
Michael is picking his nose until he sees that the camera is filming and apologizes. He says that since the first video, "a lot has happened", mainly that Michael is fighting for the rights to a website called Blueberry.com, and states that it's not looking well from his point of view. He announces that because of this, he is writing an album and that his next single will be available at around 2020. Michael gives a short preview of the single, and says that the preview was so far the entire single's contents. He thanks the audience for watching the video.
Michael starts the episode by confirming the reason why he cannot breathe through his nostrils is because he put blueberries in his nostrils when he was six years old. Michael moves on to state he is a little bit upset because he bought a bag of Welch's fruit snacks, but found out that "blueberry was not an option". He says that he will write a letter to either the company or the store where he bought the snacks from.
Michael, now wearing a new hat, says that he feels that he cheated on himself by eating a cherry. He finds them "plump and juicy", and made a song about them. The song was nearly the same as the song from the second episode. He puts the cherry in his mouth but does not eat it.
Michael has had the great pleasure of tasting a blueberry candy-type sweet. He says that they are very delicious, but not as juicy as regular blueberries. He tells the audience that they can be put into a freezer and can be frozen. He eats a piece while proclaiming its deliciousness.
Michael has watched the film Planet of the Apes, and complains that while there were plenty of bananas, there was not a single blueberry in the film. He also complains that his favorite actress, Halle Berry, was not in the film. He compliments on Berry's breasts, saying that they are "plump and juicy".
Michael had visited his personal physician, Doctor Elliott, who had told Michael that if he did not stay away from blueberries, Michael would get Type II diabetes. While driving on his way home, Michael had noticed a sale on blueberries, and bought a packet of them. He starts eating them while apologizing to Doctor Elliott.
Michael is upset because he thinks that Doctor Elliott had watched Micheal's previous video and had confiscated the blueberries from Michael's house. Michael then shows a gun to the camera and apologizes to Doctor Elliott's family.
Micheal apologizes for the channel's lack of videos, saying that he was serving time at a state penitentiary for the assault and battery of Doctor Elliott. He then shows that he is handcuffed and apologizes to Doctor Elliott's family and Michael's lawyer.
Michael eats a blueberry and apologizes for it. Michael is excited because the release date of a product that he had anticipated for was moved from June of 2020 to the day of the filming. The product in question was a pack of dried blueberries. He had bought 12 cases of them, and the store had banned him for that. He then starts eating the blueberries. This was the last Michael episode on the Dashie channel.
Michael is once excited about a product he has been following for quite some time. The product, Belvita breakfast cookies, had only had two flavors, namely apple and mixed berries, until recently a new flavor, blueberry flavor, was released. Michael shows the product and talks about how good it is until he starts screaming and eating one.
Before making the video, Michael had visited his new physician, Doctor Richards. The diabetes results came out great, and Michael is allowed to eat three blueberries and one strawberry once per day. Excusing himself, Michael eats the blueberries and is taken aback of their juiciness. He says that he has to wait 23 hours until he can eat more blueberries. He says that it is not a problem, but then looks at the camera with a blank expression and one of his eyes starts to twitch. He starts screaming and showing the blueberries into his mouth.
Michael is excited about finally getting to eat his daily three blueberries which he had saved them for the occasion. He says that the blueberries are imported from Guatemala, and describes them as juicy. After them, he says the reason for the video is that a product that he had been following for months had finally been released. The product in question is a blueberry juice made by the company Bolthouse, called Blue Goodness. After taking a sip of the juice, he tells his audience that he should end the video and thanks them for watching. The screen goes black for a moment and Michael starts eating blueberries while screaming.
Michael is greatly upset about a product, Trident Layers, that he had bought. Though the image in the packet shows a blueberry, it does not contain any blueberries. Michael says that he will be writing a letter about the inconvenience. The screen goes black, and then shows that the packet is on fire and Michael is screaming.
In this animated episode, Michael has exciting news. According to a Times magazine, blueberries from Guatemala contain a special anti-oxidant that may reduce the risk of heart attacks, and can extend ones life span by ten years. Armed with this new knowledge, Michael has directly put blueberries in his bloodstream. He states that his craving of blueberries has been decreased by 66%. He thanks the viewers for watching, and then starts eating a truckload of blueberries.
Red Bull has released "a blueberry edition to their family". Michael has bought (but not drank) the item, and is upset because does not contain actual blueberry extracts. He rants that any food item that has "blueberry" in its name should contain natural blueberry extracts. He decides to humor people and tries the drink, while still mentioning that he is disappointed. After drinking it, Michael goes into a Blueberry Red Bull induced high. He screams and crushes the can.
TBC.
TBC.