"Comedy gaming commentary! with A LOT of bad words." - Description
About
'DashieGames' is the name for Dashie's largely popular gaming channel, where Charlie Guzman himself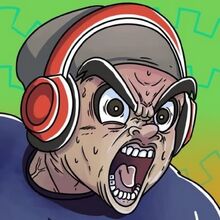 works hard recording then editing videos of him recording a gameplay, and tries to ensure the best he can that there will be a new gaming video uploaded to the YouTube channel every day, or even occasionally; twice a day. The channel reached 2 million subscribers as of November 22nd, 2015.
Story
Dashie's gaming channel was created on September the 13th, 2011 and his first video was a teaser for a later gameplay of the PlayStation 3 edition of Dead Island. Later on in 2014-2015, the DashieGames channel managed to surpass the amount of subscribers that the DashieXP channel has. The channel grew and grew, and is now Dashie's main focus. A gaming video for his channel is uploaded usually every day, and Dashie has routines for his uploading, such as Old-School Sundays.
Problems
Dashie cannot always satisfy every single one of his fans suggestions for a game to play. While he tries his best to eliminate the problem, he is sometimes blind to the fact that there is a really popular series that people want to see. An example for this is when one Sunday he played Super Mario Maker, instead of Spider-Man: Web of Shadows despite the fact that, on average, the Spider-Man: Web of Shadows gameplays receives 10K more likes than a normal Super Mario Maker upload, meaning 10,000 extra fans would have preferred it, but Dashie blatantly ignored this fact.
Also, some of his fans on the channel are teenagers or younger, whining in the comment section, making unfunny and generic jokes, copying him or underestimating how hard he works.