"Is this a PlayStation 4, or a packet of Skittles?" - Dashie referencing the different colours on the console's light bar and the lights on the controller.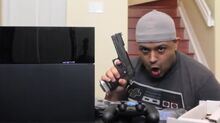 About
On November the 14th, 2013 Dashie purchased a PlayStation 4 and uploaded a video the next day of him setting it up and playing it for the first time. It is one of Dashie's most used consoles as he usually buys games to record gameplays on for the PlayStation 4. However, he very rarely shows favouritism over the Xbox One and Wii U, in fact once stating in a rap at the end of his Ghetto Spiderman video for the DashieXP channel: "You can close your eyes and use your imagination, f*ck that just go play the PlayStation, or if you prefer the Xbox One; it don't even matter just go have some fun, yeah!"
Trivia
Dashie's PS4 is jet black and is the first model created.
Dashie's DualShock 4 controller is also jet black but he may have purchased a different personalised model since then.
Although Dashie does not usually show favouritism between the current-gen consoles, he makes a considerable more amount of remarks about how dope he finds all the features are when compared to his Xbox One or Wii U gameplays.
A notice on the screen for low battery or received messages have never appeared in Dashie's gameplays with the PS4, with the exception to one live-stream.
A theory for Dashie's susceptible preference for the PS4 may be that his main console a few years back was the PlayStation 3.
It appears to be well maintaned, as it is never heard whirring loudly during any gameplay. This may be because Dashie realises he cannot rip the plug connecting the PS4 to the electricity out of the wall while the light is on, a foolish and devastating mistake for PS4 or almost all console players.